Rank higher on Google with built-in SEO Tools.
The Tymbrel Platform helps you optimize your website, page by page, making it easy to find with search engines like Google.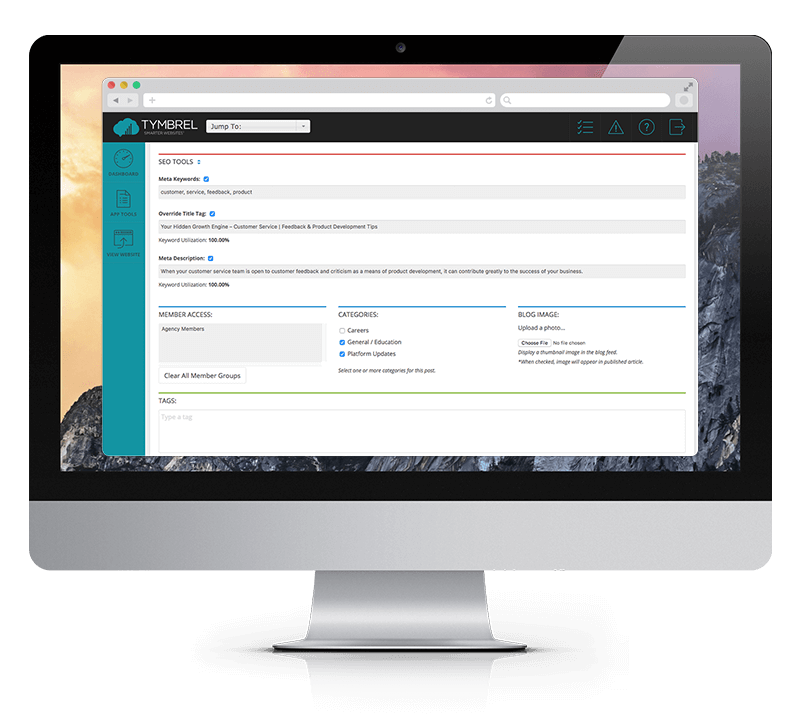 Welcome to page rank heaven. So easy!
We know content is key to your clients' success. And we also know how important the small details are to Google and other search engines.
So, we've made sure it's easy for you to give the search engines what they want.
We've integrated intuitive SEO tools into the Web Pages and Blog Apps, on the same screen as the content window.
This makes it easy and fast to set unique meta information, define your keywords and analyze their effectiveness directly on the page as you're building the content.
And, taking it one step further, the Tymbrel Platform will even tell you how well you're using your identified key words on each page. It's magnificent!
And there are even more SEO benefits with Tymbrel.
All Tymbrel-managed websites are hosted on Amazon Web Services. Google loves AWS, so your websites get an immediate SEO uptick, just for hanging out with us. 
Have questions about the SEO Tools? Contact us for a Live Demo.
We'll give you a one-on-one tour, along with some ideas on how the Tymbrel Platform will work for you and your business.