Welcome to your New Website Dashboard.
Tymbrel is a Smarter Website Management Platform with a suite of business tools for Agencies & Marketers.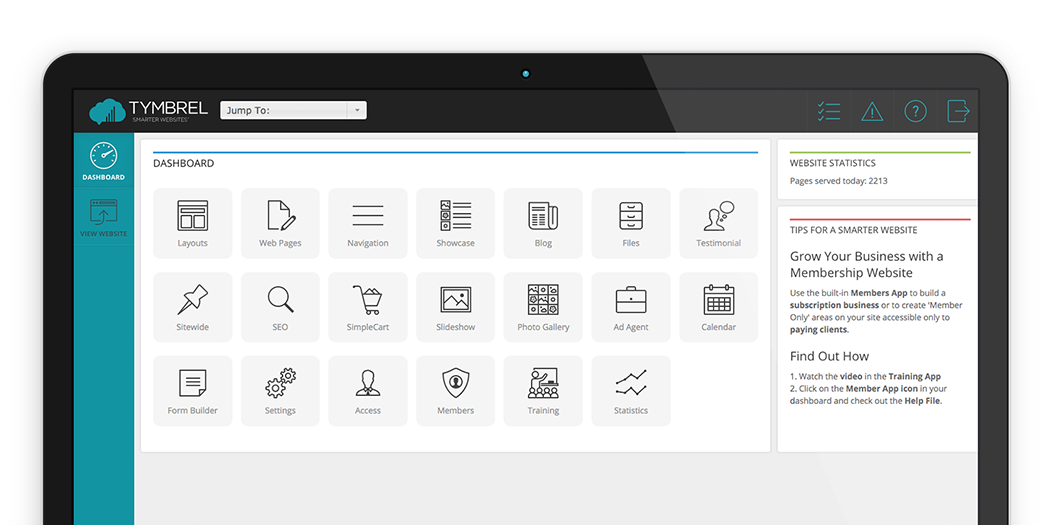 ---
Everything you need to keep client websites running smoothly is right here.
Our cloud-based software gives you all the tools you need to blog, sell online, create private member areas and add any content you want. Plus, we take care of all security issues and updates for you... in the cloud.
AWS Cloud Hosting
Every Tymbrel Website is hosted with Amazon Web Services (AWS) cloud-computing service. Whether your websites have 1,000 hits a day or 100,000 - you're covered.
Automatic/Managed Platform & Security Updates
Platform maintenance and security updates are pushed out through the cloud regularly to ensure your websites are protected and running smoothly.
Access All Your Websites with One Password
One-password access to all your websites – quickly jump between clients without ever leaving the Dashboard. 
Evolving Technology
Continuous improvement. Better performance. Up-to-date code. Your website will always be powered by the latest technology.
White-Label Option
Provide your clients with a branded user-experience. Customize your dashboard with your logo – it's all about your brand, not ours.
Technical Support & Training
Learn more, faster with unlimited technical support & training on the Tymbrel Platform. Our goal: all your websites shoot the lights out!
The Small Print Important Stuff: Daily backups. 99.99% uptime. Amazon CloudFront CDN. Enterprise-class security.
Your website will be hosted on the same hosting platform used by the biggest companies on the web. Read AWS case studies.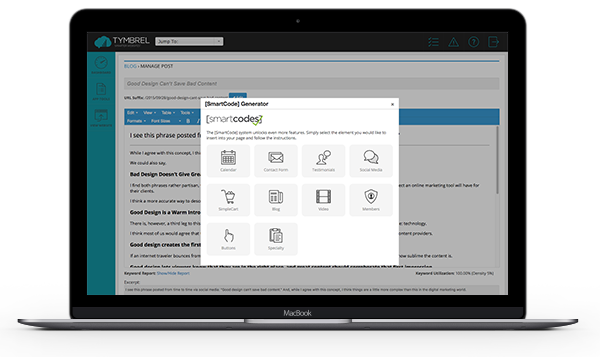 [SmartCodes]
The Tymbrel Platform uses a unique system called 'SmartCodes', which lets you pull in advanced functionality from other built-in Apps.
All with no special programming skills!
Features
Quickly insert a calendar, contact form or product
Pull blog or social media feeds 
Integrate 'members-only' features
Drop in pre-styled buttons
Plus More!
As new functionality is added, the [SmartCode] system is updated too.
Ready to learn more about Tymbrel? Contact us for a Live Demo.
We'll give you a one-on-one tour, along with some ideas on how the Tymbrel Platform will work for you and your business.